Fiji activities and experiences you can't get anywhere else
Why go to one resort when you could go to four or five, seeing more and doing more along the way. For a true island holiday experience you need to get out and about, seeing everything the Fiji islands have to offer whilst still having that relaxing island holiday you long for!

We've perfected our route over the last 12 years to offer you the best possible Fiji experience ensuring you make the most of every Fiji day you have. We've employed the best of the best when it comes to local guides and drivers. Their knowledge, passion and enthusiasm is unparalleled.
Where we go...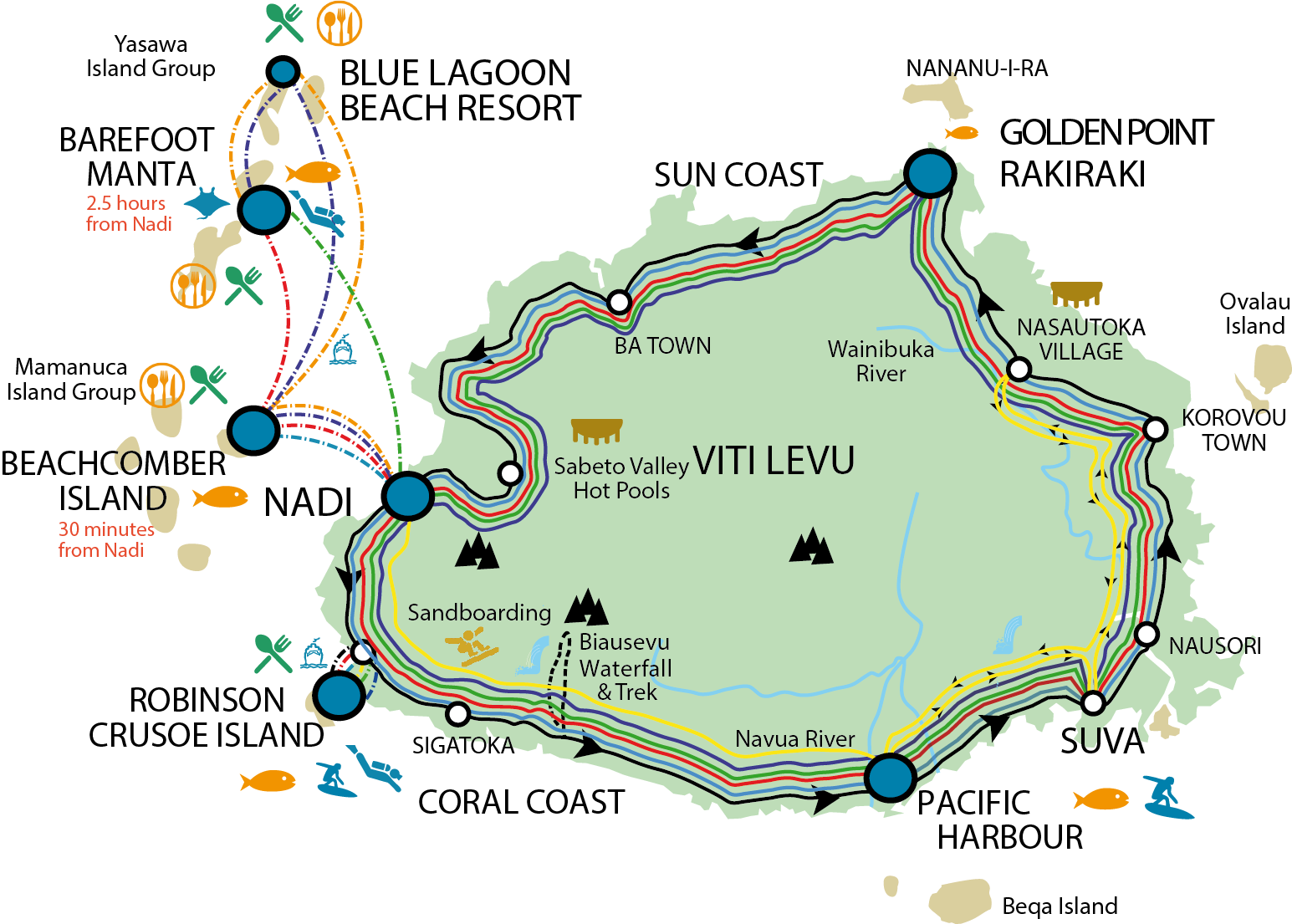 FANTASTIC VARIETY OF PASSES TO CHOOSE FROM...
Whatever your needs are, we have just the right passes for you:
Passes to suit all budgets and time frames
Inclusive of all must to do activities plus ones you never knew existed
Check out our map and make your decision where you exactly want to go or contact us on contact us on enquires@feejeexperience.com for any assistance and we are here to help you plan your trip!!

AMAZING RESORTS AND BEACHES...
See the Amazing resorts page for more info. All of the mainland and island resorts we stop have:
Stunning palm fringed beaches
Exquisite reefs
Refreshing swimming pools
AVOID THE TOURIST TRAPS...
We know what you're after and we have planned our trips around the places truly worth your time and hard earned money:
Get instant access to our years of travel experience in Fiji and the knowledge
Drive straight on past the disappointing ones
CULTURE, ADVENTURE, SOCIALISING & SCENERY...
Feejee Experience gives you the chance to try new things, challenge yourself and truly immerse yourself into our culture and country.
We provide a balance between exotic beaches, Fijian culture, history, adventure, nature, partying, unique experiences and scenery
What we do...
BEACH, SUN AND SAND...
Feejee Experience takes you directly to stunning island beaches at Robinson Crusoe, Beachcomber, Mantaray and Blue Lagoon Resort or the tranquil waters at Uprising Beach Resort, all of these places are more beautiful than you can imagine. Just don't forget to wear your sunscreen!

REAL FIJI CULTURE...
Feejee Experience visits villages along the route allowing you to meet and mingle with the locals in environments unadulterated by tourism.
Our village stops provide a unique experience and an unmatched insight into how 'The Other Half' lives in a developing country. This is the real Fiji!
HELPING THE COMMUNITY ...
We like to give something back to the communities we visit. Each Feejee Experience trip makes a stop at a variety of school and/or orphanages in remote areas, which enables you, the traveller, the opportunity to donate school stationery and other small inexpensive gifts to the less privileged children of Fiji. Makes you feel pretty good!

We are also very proud to be carbon neutral as well as having all Feejee Experience buses emission tested to comply with industry standards.

How we do it better
REGULAR RELIABLE DEPARTURES...
Sun, rain or plenty of Fijian shine you can guarantee that Feejee Experience will be departing two times in a week.
Vessels to the outer islands including Beachcomber, Blue Lagoon Resort and Mantaray Island depart daily
SHORT ROUTE EACH DAY = MORE FIJI, LESS TRAVEL TIME...
Our route around the main island of Viti Levu is only a 500km round-trip. This means you've got even more time to get off the tourist trail and get in touch with the real Fiji, lie in the sand, swim in the waterfall, or meet the locals.