Comments from travelling Fiji
Customer FEEDBACKS
03 August 2019

Me and my girlfriend travelled with feejeeexperience last week and our driver Pradeep Kumar did a fantastic job at keeping the car clean, he cleaned EVERY day to a spotless perfection inside even tho we where bringing in more mud during the day. He said it's all fine and was super friendly and did not hesitate to clean it again on the next stop. Very excellent service I would say.
Please give him a bonus
Victorcehlin
07 May 2019

Many thanks for Feejee Ex for such an amazing tour! I would like to provide some feedback in order the express how amazed I am with the way the tour was run, and to guide your itinerary in the future.
Firstly, the itinerary put together was brilliant. I really felt like it reflected the real Fijian culture with the village,market and city visits. The tour was an amazing eye opening experience for me as it allowed me to compare my life in Europe to that in Fiji.
Secondly, my thanks and positive feedback to my tour manager Mike and driver, Naomih. They were both great and I felt very well looked after and could approach them very easily. They were both very knowledged about the areas we went to and answered questions I was intrigued to know about the Fijian culture.
My only criticism of the tour (which is very small) is that 2 nights should be spent at Robinson Crusoe Island as I felt like I couldnt make the most of the Island in 1 day. Other than that many thanks to yourself and the team at Fiji Ex.
Kindest regards
Aylin
06 March 2019

Just a quick email to say thank you so much for the Feejee experience, we both thoroughly enjoyed every minute of it. It was educational, exciting, cultural and gave us an insight of Fiji life. We could not have asked for better tour guides, drivers or friends. The whole experience from start to finish was excellent, you gave us so much more than we expected. The history, the stories, the culture of Fiji alongside all the laughter and fun we had too. We both fell in love with Fiji during this time. The Feejee experience will be highly recommended by us but we know that what made it more memorable and special was having you as our guide and driver. You certainly were the 'A Team'. We are visiting many places on our 4 month tour but the four days we spent on Feejee experience will be a treasured memory of ours and we have no doubt that it will stay with us forever. We really hope you had as much fun as us!

God bless you and your families, and God willing we will meet again. If you are ever in Scotland we would be more than willing to be your guides.
Vinaka
Alison & Jessica.
5th February, 2019

Dear Team from TTF and Feejee Experience
I made a tour two weeks ago and I really enjoyed it. You showed me great places and made me a great holiday in Fiji. The people are all very friendly and I really liked the tour guide Mike and the driver Sharlendra on my last day to the airport. Very helpful, friendly, relaxed and gave me good tipps for next time. I will definitely come back to Fiji and recommend ttf and Feejee Experience. Thank you for a great time in Fiji. It was amazing!
Cheers,
Lena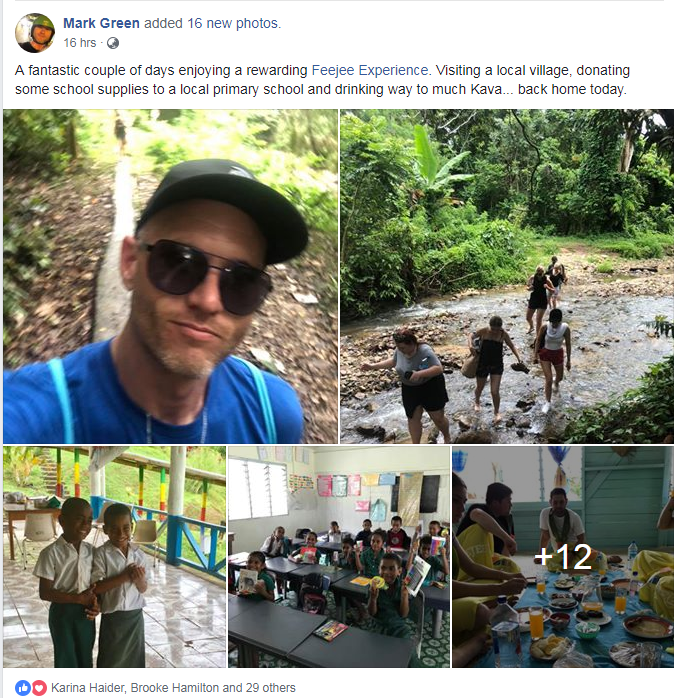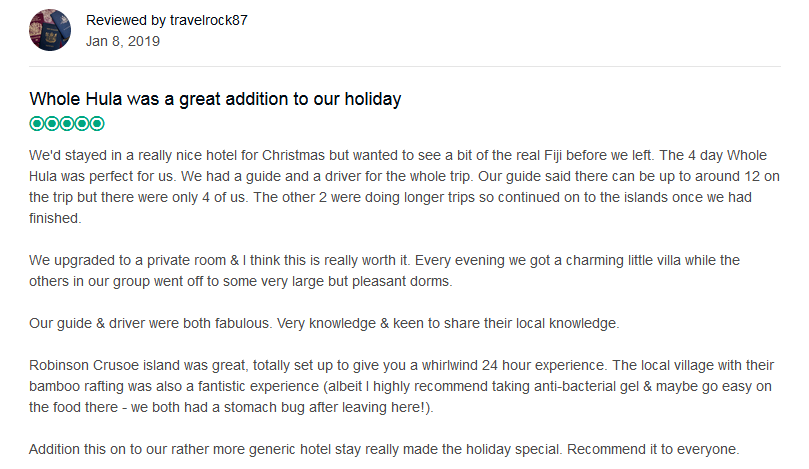 Bula!

I am writing to give feedback on my recent Lei Low tour from the 21st - 26th July. I stayed in Fiji for a total of 5 weeks and this tour was by far one of my favourite experiences throughout my whole stay. I found the 4 days touring around the main island a lot of fun, and also very educational. I was able to learn so much about Fiji's culture and history; and found it really interesting learning abut Fiji's cannibalism days! The itinerary for the main island is excellent, with great accommodation, fun activities and cool stopovers; such as passing by the Fiji Water factory and Maui Bay . My favourite parts of this tour was visiting the beautiful waterfall, and the museum in Suva. The only way I think this itinerary could be improved would be if it could be extended. Four days feels like too short of a time, especially as you really end up bonding with your 'travel family'! Maybe if an extra night could be added exploring the nightlife in Suva, as I hear it is quite the party scene.

I must say our guide Jo, and driver Komai helped contribute to it being such a great tour. I really can not fault them. From the very beginning Jo brought the whole group together, turning us into a very close knit travel family. Both guide and driver displayed high levels of professionalism and made sure that everyone was happy at all times. Jo is such a lovely person! He was great fun to be around and was extremely knowledgeable- I was able to learn a lot from him. Please pass on my thanks and appreciation to him!

I would highly recommend Feejee Experience as a fun way of seeing the country and learning all about the culture and traditions of Fiji. I have already recommended it to many of my traveller friends visiting Fiji :) Keep up the good work!

Kind Regards,

Kymberlee Marquis
Hello,

I'm emailing you to let you know how much I enjoyed my Fiji experience. I had josaia as my guid and Iliesa as the driver and they were both fabulous.
Both jo and Iliesa shared so much knowledge of Fiji and made it a very cultural experience. They are the most lovely and friendly people I could have ever asked for to share the experience with. I'm sure anyone else who has them taking their Fiji experience trip will feel the same. I've had a wonderful time in Fiji and it's thanks to them. They are both a great asset to the team.
Many thanks for a wonderful experience,

Connie Betts
Hi having just finished the tour, I would like to make a special mention of Sam, the driver and Mike. What a team. They really made the tour so fun for us. A great combination of personalities.
Thank you,
Wendy
Bula!

I just wanted to send you all an email with regards to my recent tour with Feejee Experience (6Jan - 16Jan) and to pass on a MASSIVE thank you!!
To the team that assisted with my booking from the start via email and answered my questions, thank you - because of your assistance I went ahead with booking the tour!

However, the biggest thank you has to go to my tour guide Suka! What a legend! I was a bit nervous at first when I found out that it was only myself on the tour and that for the 4day mainland tour it would just be Suka, a driver and myself...but WOW...what an experience! I had so much fun touring around with both Suka and Soko (driver), they were so helpful, super informative and made the trip the best! They made sure I was ok all the time, shared their stories with me about Fiji and pointed out really interesting things along the way. I had my own personal tour and it was amazing! You should be very proud of Suka, his attitude towards and passion for Fiji shone through in all that he did!

This was my first trip to Fiji and will definitely not be my last!
I hope that you will pass on my appreciation to both Suka and Soko (thanks guys!).
Keep up the good work, all the best...

Nikki Jarvis
New Zealand
Bula! It's been 2 weeks since I came back from Fiji, everything started to get in order. We have been sharing photos among members of our traveling group. These pictures really bring back the fond memory of the trip of New Zealand, Australia, and Fiji, especially FIji, because of you, our tour guide.

Your were very friendly and treated us more like friends than your customers, very personal and warm.We all liked you very much. Your Bula greeting, smile, and good introduction of Fiji made our time in Fiji very enjoyable. We also really appreciated your quick decision to go back to the village to find the Ada's lost passport. The trip concluded with a happy ending.
Love,
Kitty Twu

It is coming to the end of my time in Fiji and I just wanted to leave some feedback on the feejee experience tour we had.

We were recommended feejee experience by two friends who had done it earlier in the year with a guide called Suka and had loved it.

When I booked it with my two siblings I had high expectations and let me tell you that it met every one. We were lucky enough to also have Suka as a guide and he is honestly the best guide I could have asked for. Not only was he fun, friendly and enthusiastic but he also ensured that we were all included and comfortable.
He also notably went out of his way to find vegetarian places for my sister to eat at when everyone else wanted McDonalds.
I would appreciate you passing on my thanks to him for such an enjoyable experience in which I had great fun and learnt lots about the Fijian culture.
I wish him all the best and have already recommended feejee experience and Suka to several friends planning to visit feejee in the future!
Kind Regards,
Lily, Sarah and Sam


Really friendly they made our trip. Could not have had better people making sure that every one enjoyed every moment. Really fun , amazing guide, brilliant experiences which are made better by being in a great group. The village visit , felt really welcomed into the village, the children, food and people were amazing
Hannah Lister

the places that we visited were amazing, good range of activities. Maryann was beyond amazing!. She made the trip. Because of her i will tell everyone about Feejee Experience. Maryann was the best guide ever. Getting to know the group and the amazing tour guide and driver was the highlight of Feejee Experience.
Hannah Imwalle USA & Australia

The whole 4days was an amazing experience. Maryann is amazing. Thank you so much for every experience you made our trip extra special. Best way to experience the real fiji. The village and the constant laughs throughout made the highlight of my trip.
Sophie Mayers - England

I just wanted to send you an email to say a HUGE thank you for my trip on the Feejee Experience. It was the most amazing trip and I loved Fiji and the trip I think made it even more amazing for me. From the moment I arrived and until I left your whole team were so helpful and welcoming. All the accommodation was just amazing and could not believe the value for money, they were perfect! The tour covered everything and more beyond my expectations, truly was just out of this world I loved every part of it. I would like to also mention that my guide Kay was just the most informative and nicest guy, he really treated us like his friends and not just a tour group. So so helpful and ever so interesting not just with information about the country and locals but his own experiences which was nice rather than just someone reading from a guide book!
The only thing I have to say that I wanted is more time there!! I will definitely be returning and you can count on me to be recommending FeeJee Experience to all that come into OzIntro and anyone I speak to!!
Thank you once again.
Kind regards
Nicola
Oz Intro

i loved every minute of the trip. really enjoyed the rainforest trek & waterfall. Uprising was amazing. Couldn't have asked for a better driver and guide. Hilarious & definitely was made to feel part of the fiji family. Thank you Jerry, Maryann & Elija
Mollie

Meeting th Fijian people and seeing their lifestyle first hand
Akemi, Japan

I recently did the Mangos and Mantarays feejee experience. I forgot to hand up my feedback form. I had a great time, trip was really good, my guide Kay and driver Elija were brilliant guys to experience Fiji with. I will recommend Feejee Experience to everyone I meet!!!
Kellie Hoyne

I just wanted to provide Feejee Experience and especially you, Emi and Eliza, with a big thank you for such a great time in Fiji. The effort everyone made to make sure that we made it out to Mango Bay even with the last minute booking was exceptional. Emi and Eliza were fantastic tour guides and we had such a great time with them and the rest of our group. The private rooms of the hostels included in the Feejee Experience were some of the nicest we have stayed at anywhere and all of them exceeded our expectations. So again, thank you so much for the fabulous time in Fiji!
Kind regards,
Aaron and Paula, Vancouver, Canada

I just wanted to email to say what a FANTASTIC time I had on the Whole Hula, Feejee Experience tour last week. Our guide 'K' and driver 'Mr A' were both really fun, friendly and informative and made sure we had a great time, giving us what felt like a private tour, as there were only 2 of us on the tour.

The tour was so varied with activities such as jungle trekking and snorkelling being matched by cultural activities such as the village visit. There was also time to relax on the beach and in the mud pools and hotsprings. The resorts we stayed at were awesome and the staff were all so accomodating and friendly!

I had so much fun, tried new things and learnt loads. Thank you so much K, Mr A and FeeJee Experience! Ill definietly be recommending the tour to my friends.
Hannah :-)
Also check out our Facebook page
Customer Feedback from Face Book