Why Feejee Experience offers the ultimate Fiji adventure
You've worked hard, saved up and aren't sure when you'll get the chance to do it all again. The last thing you want to do now is choose the wrong people to travel in Fiji with. You're here to see the country—not the inside of a bus or boat. You're here to meet people—not to practice for some reality survival show on a stranded island. You're here to experience a legendary place and be guided by those who know the Fiji Islands best. Travellers and backpackers around the world choose Feejee Experience, because this is what we want for you as well.
Why Choose Us
There are a thousand reasons why travellers choose Feejee Experience over boat tours or 1-resort based holidays. Feejee Experience is the real Fiji—sun, sand, culture, and adventure; designed by travellers for travellers. We know when to stop and soak it in and when to keep on and leave the tourist traps behind. We'll show you Fiji's big highlights and incredible places so hidden even Tom Hanks in Castaway couldn't find them. Whether you're an adventurous person, a culture seeker, a beach lover, or have come to see the most amazing islands the Pacific has to offer, Feejee Experience is the trip of a lifetime! You couldn't have a bad time if you tried.

Who travels with us
You'll love meeting the other travellers of all ages, all nationalities, and all types who travel with us on our Fiji adventures. Age is not a barrier! We have proudly taken passengers of all ages on the Feejee Experience from 18 year old through to 80+ year old holiday makers. It's about attitude and wanting to see the best of what Fiji can offer. We do ask that all passengers 18 years or younger travel with a legal guardian.
Travelling alone? Seqa na leqa (no worries) as you'll meet like-minded travellers each and every day. Couples will find romantic destinations amongst all the fun and adventures whilst families and friends will have more than enough adventure throughout the day to ensure a fun filled holiday in the sun. Feejee Experience is designed for everyone, everyday, that's why everyone loves it!

Where We Go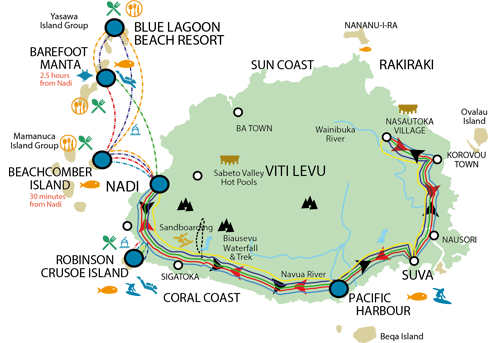 Fiji adventure plus lots of sun, sand and beach makes for the perfect itinerary in the Fiji Islands.
Fantastic Variety of Passes to Choose from...
Whatever your needs are, we have just the right passes for you:

Passes to suit all budgets and time frames
Inclusive of all must to do activities plus ones you never knew existed
Check out our map and make your decision where you exactly want to go or contact us on contact us on enquires@feejeexperience.com for any assistance and we are here to help you plan your trip!!

Amazing Inclusions

To make sure your hard-earned cash goes as far as possible the following activities are included on Feejee Experience passes. That means no additional cost to do everything throughout the day on Feejee Experience and more money to sit back at Fiji's best beach resorts every night and sip on those long awaited famous Fijian cocktails!! All activities are optional and should you not want to do them, there's always the beach!

Amazing Resorts

Not does Feejee Experience only chooses and recommends the best budget beach resorts in Fiji, our accommodation providers have won tourism awards for their facilities including environmental awareness

Awesome Drivers & Guides - 100% Fijian


Our Fijian Drivers and Guides love showing off their country and culture. Their big Bula smiles will be there to greet you on the bus, while they guide you thought the best spots in Fiji. They're waiting for you to join them. Who better to show you around than the locals! Feejee Experience attracts fun, outgoing characters from all over the Fiji Islands, whom passionately share their country and culture. They love to share their family history, including details of their village and lifestyle. Feejee Experience ensures that our customers experience both the Fijian culture and the Indo-Fijian culture by having a Guide or Driver from each culture as a part of the trip. This way you can talk to them and learn about integrated Fijian communities and how they live side by side. Before our drivers and guides go to work at Feejee Experience each and every one of them must also go through a rigorous licensing, first aid, and company training program to ensure your safety on Fiji's beautiful back roads. The relationship formed between our Guides and Drivers and their passengers is often the most rewarding experience of all!